Baby Care Division
Switzerland: HOCHDORF Swiss Nutrition Ltd
In the 2016 business year, the Baby Care Division increased gross sales revenue by +11.8 % to CHF 123.4 m (PY CHF 110.4 m). The successful optimisation of the existing production facilities as well as the customer and product portfolio were instrumental in generating this growth. In contrast, the volume sold increased by only +2.4 % to 17,159 tonnes (PY: 16,763 tonnes). The percentage difference for the increase in gross sales revenue impressively demonstrates the restructuring of our customer base due to the continuing capacity bottleneck.
Utilisation of the plants for the production and filling of infant formula was at a very high level throughout the year. With hardly any downtime and optimised processes, we were just able to keep up with the growth of our customers. To remain capable of supplying Swiss-made infant formula, investments worth CHF 80 m were approved for expanding the production and filling capacity for infant formula and for storage logistics at the Sulgen site. The building for the high bay racking is now completed and the state-of-the-art storage logistics technology is being installed and tested.
We started construction of the spray tower line in the fourth quarter of 2016. The line is designed with a maximum capacity of about 30,000 tonnes per year. At present we can manufacture a maximum in the region of 17,000 tonnes of infant formula. It is still expected that the additional production capacity will be available to us in the first quarter of 2018. The same applies to the new filling line, which will also be installed and tested during this business year.
À propos forward integration: the HOCHDORF Group took a first key step in this direction by acquiring a majority stake in our long-standing business partner, Pharmalys. It is now necessary to combine the advantages of both companies, learn from each other and make use of synergies.
The development department has changed the formulations to comply with new EU requirements and incorporate the latest scientific findings. It was necessary to adjust the nutritional value profile and the protein content to the new EU regulation for example. Our developers are also focusing on increasing capacity, process optimisation of the existing facilities and the preparatory work for process development of the new production line.
Various clarifications and adjustments had to be made due to the Swiss Trade Mark Protection Act (Swissness Law), which came into effect on 1 January 2017. Thanks to exemptions that have been approved, we can continue to use the Swiss cross on practically all our products. The exemption was granted to us for lactose, for example. We use our own lactose in our products, which is available to a limited extent. Lactose is, however, also a strategic product, for which a dual supplier strategy is urgently required.
Our infant formula is a high-quality product that is manufactured in a complex process with Swiss milk. With our premium products, we consider ourselves a key ambassador of Swiss-made products.
Outlook
There is still no additional production capacity available in 2017. In the Baby Care area we nevertheless expect a significant jump in turnover and gross sales revenue in the range of CHF 170 – 180 m, due to the majority stake in Pharmalys.
In development it is necessary to continue adapting some formulations to comply with the new EU regulation. Development work in connection with increasing capacity in Sulgen also remains in focus. We also aim to expand the product range by adding specialist children's food products.
A new regulation in China stipulates that, in future, every brand available on the market must undergo an approval procedure. This procedure will be introduced this year and it involves some uncertainty. In addition, the registration procedure for each individual brand is relatively costly.
Since the start of the year we have also been occupied with the future cooperation with Pharmalys. As a first step, we are focusing on the integration of possible shared processes and systems. In marketing and communication, we will also be able to learn from each other and make use of synergies. Thirdly, we are assessing the option of using the Pharmalys distribution network for selling other HOCHDORF products.
Our existing customers are looking forward to the expansion of capacity. They are planning to increase their sales activities and invest in new markets. On the sales side, the expansion of capacity now enables us to acquire new customers again, with the aim of filling the new capacity. However, we are also planning capacities for our own brands with the strategic objective of forward integration.
With effect from the start of 2017, Frank Hoogland has taken over management of the Baby Care Division. In getting him on board, we have found a very good internal solution. He has a broad range of international experience in the infant formula field. He is familiar with business-to-business and the business-to-consumer aspects. I myself, as CSO (Chief Sales Officer), will support and organise key strategic sales projects for the HOCHDORF Group. I wish Frank Hoogland every success in his work and look forward to supporting him specifically in strategically important projects.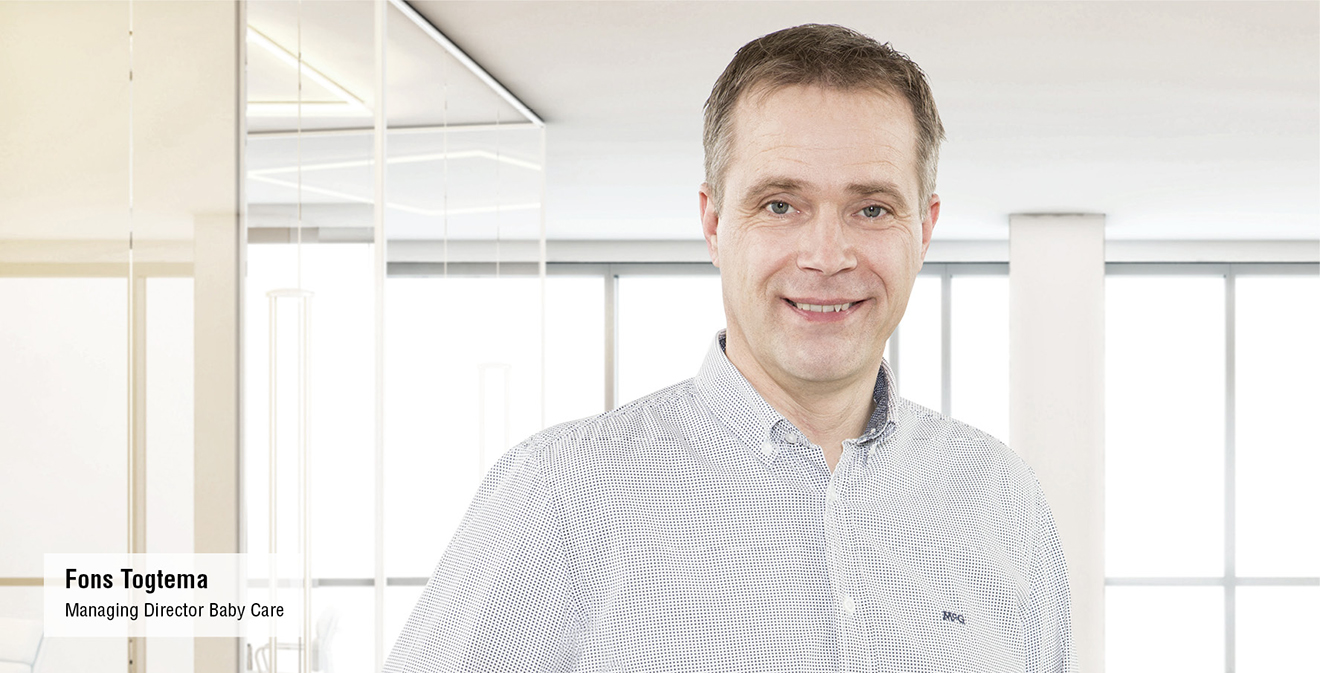 Strategy in brief
We offer our customers a broad Swiss-made product range of high-quality food for babies and children. We also support our partners, if requested, with services such as sales and marketing training. The Baby Care Division is international in structure and is planning further growth in Asia, the Middle East, Africa and Latin America. In the medium term, we want to move closer to the consumer in the value chain with our own brands in selected markets. We are optimising our production capacity and expanding it in line with demand. We will make basic products for the production of infant formula at the Prenzlau facility.
Product range
Milk products for pregnant women, infants and young children made in Switzerland.
| | 2016 | 2015 | 2014 | 2013 |
| --- | --- | --- | --- | --- |
| Gross sales revenue (in KCHF) | 123,391 | 110,417 | 109,988 | 94,507 |
| Share of revenue abroad (in %) | 95.5 | 91.7 | 91.3 | 95.9 |
| Volumes sold (in tonnes) | 17,159 | 16,763 | 15,651 | 14,007 |