Baby Care Division
Switzerland: HOCHDORF Swiss Nutrition Ltd
Baby Care Division achieved gross sales revenue in the 2015 financial year of CHF 110.4 m. This is on par with last year (CHF 110.0 m). In view of the strength of the Swiss Franc and the fact that over 90% of the revenue is generated abroad, we are very satisfied with this result. Quality and product safety are the top priorities in the production of infant formula. This had to be borne in mind in the projects to maximise capacity. We succeeded in significantly increasing the capacity of the production systems in the second half of the year compared with the first. We were able to increase the volume sold by 7% to 16,763 tonnes (PY: 15,651 tonnes). The project group for maximising our own production capacity has not been disbanded.
The restructuring of our customer base enabled our strongest partners to achieve significant growth in spite of capacity bottlenecks. For example, our customers in Africa were able to expand their sales into numerous further countries. HOCHDORF products are today available in Burkina Faso, Bur­undi, Kenya, Nigeria and Tanzania, to name just a few countries. In Asia, we are also supplying a partner in Cambodia.
Our rapidly growing partners in the markets of Asia, the Middle East and Africa emphasise the Swiss origin of the infant formula in their marketing activities. Their medium-term planning provides for further growth. We are dependent on new production and filling capacity in Switzerland if we are to service these customers in good time with Swiss-made infant formula. For this reason, we had to postpone our plans for new construction work at the Prenzlau facility. With a small investment in our existing drying system, we will be in a position to produce base powder for various existing partners in Prenzlau by around the middle of 2016.
Our development department was kept busy in 2015 with various regulatory modifications. Among other aspects, all EU formulae have to be adapted to meet the new EU regulation. A further development project is attempting to use milk fat to achieve the right fatty acid spectrum in infant formula. This project is following the emerging trend towards using fewer exotic products such as palm oil, and is also in line with current scientific developments. Our developers are also involved in capacity-enhancing projects in Sulgen and Prenzlau. The IonEx project for producing our own lactose and whey proteins for our infant formula was also given close support.
Launching in Latin American markets is proving harder than we had assumed. The barriers to market entry are relatively high, and the general economic situation is tough in some countries. For this reason, we have now set up HOCHDORF Americas Ltd in which we have a 60% stake. At the same time, opportunities for a production joint venture have opened up. This opportunity is now being pursued parallel to our own sales activities.
Outlook
We are now in the final straight for the use of our own lactose in our infant formula. An initial test with the use of liquid lactose was conducted at the end of 2015. The task now is to analyse these products and, if necessary, to make modifications to the production process or the formula. Our developers are also involved in the conversion projects in Prenzlau and the Sulgen project.
We will also turn our attention to the new Swissness legislation. Currently we are assuming that we will be allowed to continue advertising the Swissness of our infant formula made in Switzerland. Wherever possible, we are already using Swiss raw materials for these products.
With our forward integration, we intend to move closer to the consumer and establish a presence in the market with our own brands. In the process, we will focus on the MEA region and/or Asia. These markets are attractive on account of their size, market structure and positive growth prospects as well as good existing partnerships. Ideally this could be achieved by integrating one or more existing customers.
Although we do not yet have any further production capacity, we are planning to increase revenue by around five percent. However, to achieve this, we will be dependent on a smooth supply chain and on further increasing the capacity of existing plants. At the same time, we are taking soundings in the market to identify possible new partners to enable us to fully utilise the planned new production and filling capacity as quickly as possible.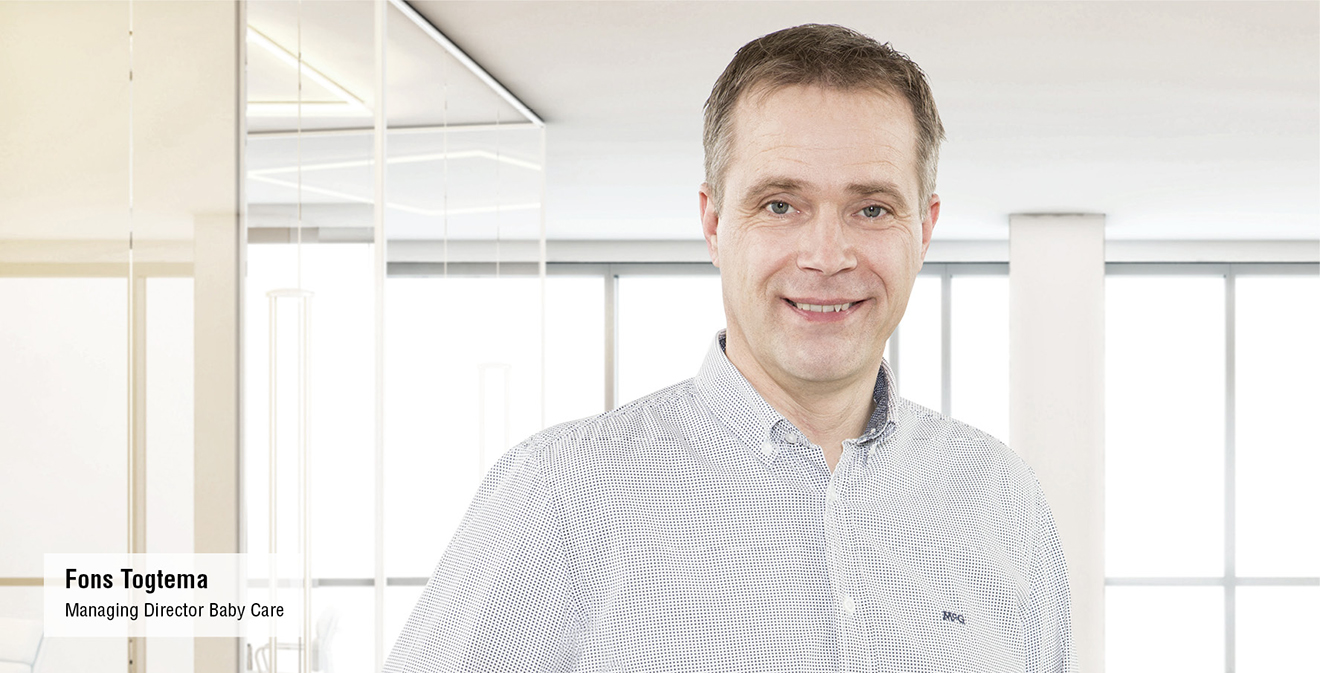 Strategy in brief
We offer our customers a Swiss-made product range of high-quality food for babies and children. We also support our partners, if requested, with services such as sales and marketing training. The Baby Care Division is international in structure and it is planning further growth in Asia, the Near East, Africa and Latin America. In the medium term, we want to move closer to the consumer in the value chain with our own brands in selected markets. We are planning to optimise and expand our production capacity. We will make basic products for the production of infant formula at the Prenzlau facility.
Product range
Milk products for pregnant women, infants and young children made in Switzerland.
| | 2015 | 2014 | 2013 | 2012 |
| --- | --- | --- | --- | --- |
| Gross sales revenue (in KCHF) | 110,988 | 109,988 | 94,507 | 70,646 |
| Share of revenue abroad (in %) | 91.7 | 91.3 | 95.9 | 94.4 |
| Volumes sold (in tonnes) | 16,763 | 15,651 | 14,007 | 11,087 |