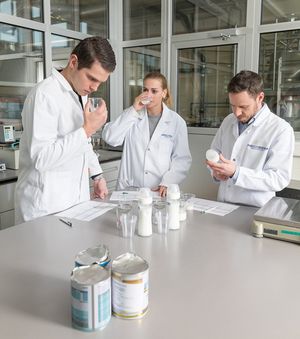 HOCHDORF sees its future market opportunities in the "Smart Nutrition" niche for specialist foods with a high functional added value for our industrial customers and for our consumers. Production requirements for these "Smart Nutrition" products include sound knowledge of nutritional physiology and consumer needs as well as resilient technological competence for the careful processing of high-quality raw materials.
For this reason, we have merged the two previously independent development departments for Baby Care and Food Solutions into an "Innovation and Research & Development" department. The first fruits of this close cooperation are already evident; innovation and development efficiency has been increased and a variety of synergies have been exploited. In close cooperation with production, the first projects in process management for lactose production for the Baby Care division have already been completed and are leading to significant energy and water savings.
We reached a further important milestone in the development of specialist formula for infants with special nutritional needs. A product based on hydrolysed rice protein will be launched in the Swiss market in the second half of the year (see Baby Care report).
Further product and process developments have also been launched, with some already implemented. These cover a wide range of activities, including the production of liquid lactose and the whey competence centre for the development of our own whey protein concentrates for use in Baby Care, the development of goat's milk products for Bimbosan and Food Solutions, and the development of formulations for vegan chocolates.
Products have been developed, produced and distributed – some with a high degree of complexity – in both divisions. For this reason, we attach great importance to the qualified training of our Baby Care sales staff, as well as the Bimbosan sales representatives and customer hotline staff. We also aim to further increase our advisory competence and knowledge of nutritional physiology at product level. This will support our Bimbosan customer service, the level of advice available to the specialised trade as well as the quality of sales talks for our Baby Care brand and private label business in particular.