In this Annual Report, the HOCHDORF Group provides detailed information on the topic of sustainability in its customary two-year cycle. As part of its future strategy development in the second half of 2020, the Board of Directors and Group Management jointly agreed to intensify HOCHDORF's sustainability efforts. This will include creating a Sustainability Strategy 2030 with new ambitious targets and measures along the value chain by the end of 2021. In addition to the topics currently under consideration, a new sustainability core team will also develop action targets for sustainable milk and animal welfare, climate and greenhouse gas emissions, waste avoidance and water consumption, as well as waste-water management for the Swiss locations.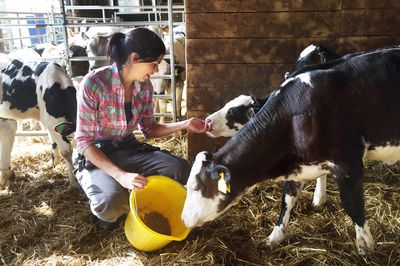 By the end of 2021 we will have completed our sustainability strategy and defined its key projects.
Jürg Oleas, Chairman of the Board of Directors
Our new corporate positioning is based on the triad of nature–people– technology. This triad will play a key role in our efforts to intensify our contribution towards sustainability and we will continue to set challenging goals for the years ahead. HOCHDORF is already processing Swiss cow's milk, 85% of which is produced in accordance with the "swiss milk green" standard. "Milk from our Thur Milch Ring direct suppliers already meets the requirements by over 97%.
Peter Pfeilschifter, CEO of the HOCHDORF Group